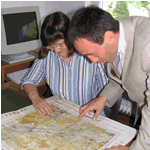 Data Evaluation
We have a thorough understanding of environmental data from our large field and laboratory data sets and from the wide range of studies we have already performed. We can use this to evaluate your data and interpret the underlying mechanisms and reasons.
We combine state of the art statistical analysis with our scientific knowledge.
We do data mining and data research to produce data sets of special interest.
For example, we gathered data from local authorities and made a field survey on past and present land use in one water catchment. From these, we developed historical land use scenarios. These were used as input functions together with the hydrogeological properties to predict the decline of nitrate in the groundwater body and more specially at the supply well of the water supply company.