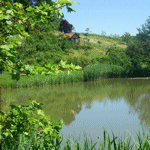 Water Industry
Water distribution companies are our main contractors. We evaluate problems in natural water resources all over the world. Our speciality is the Soil - Groundwater - Well pathway. We provide to the point investigation schemes, which solve the problems of our clients and elucidate the sources, pathways and transformations of a wide range of chemical substances.
Water resources are most often affected by diffuse pollution, e.g. from agriculture. Therefore, we include the stakeholders from outside the water industry in our solutions. We initiate and manage the cooperation with local farmers or other stakeholders to improve water quality.
Due to our patented Self-Integrating Accumulator method (SIA method), we are also able to monitor effectively the effects of agricultural management and fertilisation on the environmental status and development of the groundwater recharge. Our method does not interfere with agricultural practice, it is accepted by the farmers and provides a continuous measurement of contaminant leaching.
Look at our Services or contact us directly to find out more.