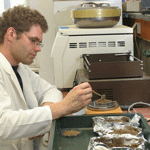 Laboratory Investigations
We conduct experiments to analyse the processes and interaction strengths of contaminants or nutrients in the soil-water system. This may be useful to assess risks in the environment or understand the behaviour of substances in special circumstances.
Therefore, we apply a range of laboratory methods of which the most prominent are:
Undisturbed and disturbed Soil Column Experiments with our 24 place equipment for unsaturated controlled water flux conditions.
Sorption studies in batch experiments on the distribution of contaminants between the solid and the liquid phase.
Method development and testing for specific purposes, e.g. thermodynamic processes during the adsorption of pesticides to mineral and organic surfaces by microcalorimetry.
Other custom designed experiments to answer to specific problems.