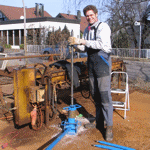 Industry
Industry can rely on our expertise to evaluate abandoned or contaminated sites. We combine knowledge on the behaviour of relevant chemical substances with expertise on proper sampling schemes and reliable certified contracting laboratories. We do not leave you alone with our results, but propose what is next and can guide you through possible decontamination or reclamation procedures in close contact with local authorities, if necessary.
We have already conducted field investigations for demanding institutions like the German Environmental Protection Agency (Umweltbundesamt, report, p. 184 - 193 in English) on rare substance groups like tin organics or common ones like mineral oil. We provide in depth insight and understanding of the environmental processes and behaviour of contaminants. Therefore, we shoot trouble in the clean up instead of having a surprise afterwards.
Look at our Services or contact us directly to find out more.