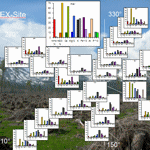 Science
Scientists all over the world cooperate with us. They apply for funding including our knowledge and techniques on field and laboratory experiments. They contract us to conduct the soil or hydrological parts of their field experiments. Scientists from many Institutions rely on us to provide them with the data they need from the experiments they need.
We have a broad experience on a wide range of chemicals, sites and conditions in different climates and world regions. We also offer you our experience in scientific fund raising and experimental setups to test your hypotheses properly.
Look at our Services or contact us directly to find out more.